If you want to print a copy of your project, select the Print command from the Application Toolbar:

You will be prompted to select which items to include in the print, as you can see in the following image: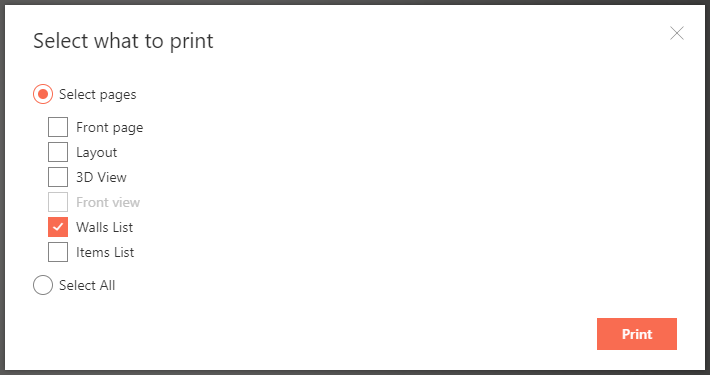 Let's take a look at each of these selections, one by one:
Front page: this is a cover page with customer name, project description, date, and other essential project info;
Layout: this page contains an image of the project as seen from above, containing flooring material and 3D objects, as well;
3D View: this page contains an image of the scene in 3D, taken from the observer's last position. To switch the viewpoint of the 3D view, go back to the 3D view and move your viewpoint with the mouse;
Front view: this page contains an image of the wall that is currently selected. This selection is only available if you have the 2D view open;
Walls list: this will generate images of

all

the walls contained in the project, one wall per page, with each page containing the details of the covering materials (i.e. tiles) applied to that wall;
Items list: this will generate a list of items used in the project. There are customized versions of TilePlanner where you can also print the price of the items in the project, especially important if TilePlanner has been integrated with an e-commerce platform or a website with a pricing service.
The Application will keep your selection in memory within the browser cache, so your next print will contain the same elements previously chosen.
The Select all option will print all of the above items.
Depending on the browser you're using, you can use the browser Print feature to send the print to a physical printer, or you can export a PDF version of the document.